vox · January 7, 2012 · comments
Durius, Melius, Celerius, Fortius
by Chris Adolph
Spoken or overheard…
daft
The tarantula should have paid its own rent.
punk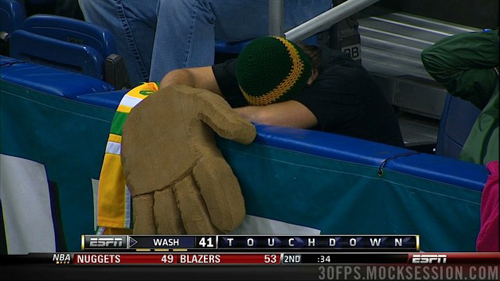 daft
Good Garrison dog! What a nice forced sit.
punk
There's always room for one more clown in the car.
daft
Every dog-on-man will have his day.
punk
I can sleep like a m*****-f***ing champion.
tags: dialogs
vox · December 5, 2011 · comments
Dialogs & Observations: Episode 2
by Chris Adolph
With apologies to the interlocutors, real, real, and imagined…
ydat
Gingrich is accepting the Trump debate—he says when a "unique American character" offers to moderate a debate, the "correct answer is yes". Has he considered how many "unique American characters" are out there?
Snooki?
nkaz
Sure the exact numbers and recipients were not announced (arguably for a good reason if you accepted the need for the program at all), but I have my E-mails from 2008-2009 talking about this. TARP was intended a.) for those who couldn't even swap toxic assets for sweetheart loans through the Fed and b.) to add flexibility to the overall bailout. I've read this story every 12 months since 2008, and every time these loans are called "secret". It must be a new meaning of "secret" I wasn't previously unaware of. secret, adj., appearing in the press at fixed annual intervals. Usage: Major League Baseball opened secret training camps in Florida and Arizona today, and some say the thirty cells of this clandestine organization are developing "designated hitters" to strike out at large public events across the American heartland. I do have to admit that I am glad that this story gets recycled even if it does appear with the "revelation of amazing secrets!" headline every time (and this time is arguably justified since the FOIA information is actually new). I keep hoping that one of these times the gears will mesh and someone else will be as outraged as I was in 2008…
xkcd
You should really consider C.S. Lewis's "Lunatic, Liar, or Lord" argument.
Oh, I love incomplete partition games!* Have you read Si Clews' celebrated blog post, "Mistaken, Misremembered, or Missing-In-Action"?
help
*A translation which will help quantitative political scientists, and cause everyone else to nod slowly while hoping the pain will go away: "Partition" is the esoteric word mathematicians use to decsribe what any sensible social scientist would call an "exhaustive typology consisting of mutually exclusive categories". A fun incomplete partition game political scientists like to play is "Bet you can't guess which unobserved covariates are really driving my country fixed effects…"
vox · November 19, 2011 · comments
Dialogs & Observations: Episode 1
by Chris Adolph
With apologies to the interlocutors...
ydat
I don't think he has a sophisticated enough causal story to qualify as "functionalist", honestly. You got me: I'm not being fair to functionalism, for lack of a term that encompasses arguments that aspire to functionalist fallacies but fail to, well, function. So let's call it magical functionalism! I'm reading Murakami's latest novel, and this really helps identify the realism in magical realism.
nkaz
...you know, there's no guarantee this is the Early Anthropocene. With a raise like that, I think I'll fold in our 7-card depression game. What do I win? … Oh.
xkcd
Of course Newt is next. The 2012 epublican primary season is the Fred Thompson experience accelerated and iterated: because no intelligent or skilled politician would adopt its suicidal purity pledges, the party base lurches from one warmed-over loser to the next, dropping them when the rest of the world checks in to expose the incompetence.
tags: dialogs